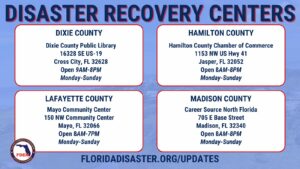 Following the impacts of Hurricane Idalia, a number of resources are available for both residents and businesses.
The State of Florida and FEMA opened Disaster Recovery Centers in Hamilton, Lafayette and Madison counties on Sept. 6, to provide one-on-one help to people affected by Hurricane Idalia. The centers will remain open until further notice.
Locations:
Hamilton County: 1153 NW US Hwy 41, Jasper, FL 32052, 8 a.m. to 8 p.m. Mon-Sun
Lafayette County: Mayo Community Center, 150 NW Community Cir., Mayo, FL 32066, 8 a.m. to 7 p.m. Mon-Sun
Madison County: Career Source North Florida, 705 E Base St., Madison, FL 32340, 8 a.m. to 8 p.m. Mon-Sun
Previously opened:
Dixie County: Dixie County Public Library, 16328 SE US-19, Cross City, FL 32628, 9 a.m. to 8 p.m. Mon-Sun
No appointment is necessary to visit a Disaster Recovery Center. Residents can visit any center.
In addition, download fact sheets on:
Learn more about recovery efforts on the Governor's website.  Complete information on FloridaDisaster.org